Task Timer
You can start a task timer on Task Dialog.
Start a Timer
To start a timer just click time box.

Stop Timer
To stop a timer just click on it.
Record Time
When you stop a timer Time Log dialog will be open with auto-filled timer elapsed time. You can enter time-log information and save it. To add a time log manually please see Time Tracking page.
Reset Timer
Click [] icon to reset the timer.
Timer Box
When you start a timer you can track time on Timer Box. It will be placed on bottom-left corner by default. You can drag it anywhere in the app and track your time when you working on other apps.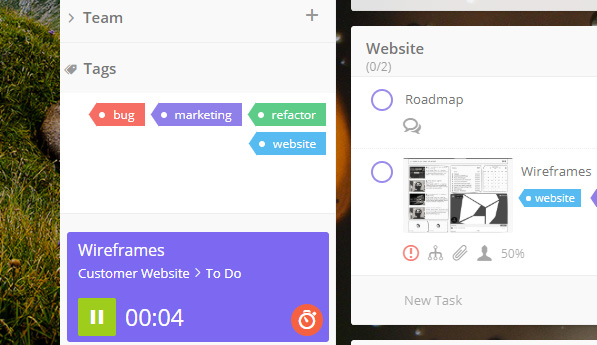 Unless you stop a timer it will continue to count (even while you logged out).
Pomodoro Timer
You can start Pomodoro Timer to improve your productivity within your Task Timer Box or Task Dialog. 
Pomodoro Timer helps you do more in less time and regain your lost concentration.

Start Pomodoro Timer
To start a pomodoro timer click [] icon on Task Dialog or Timer Box.
Stop Pomodoro Timer
To stop pomodoro timer just click on it.
Set Pomodoro Interval
You can set pomodoro interval minute in Task Settings.