Resources
Business Types
Car Rentals, Holiday Homes, Hotels, Meeting Rooms, Kayak Rentals, Bike Rentals, Equipment Rentals, etc.
Resource type is useful when you want to book a resource (car, room, bike, etc.) for a time range.
Creating a Resource
To create a resource click plus icon on Resources section.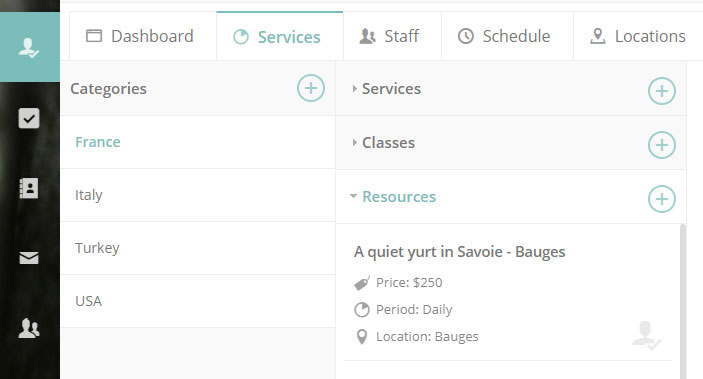 Create Resource Dialog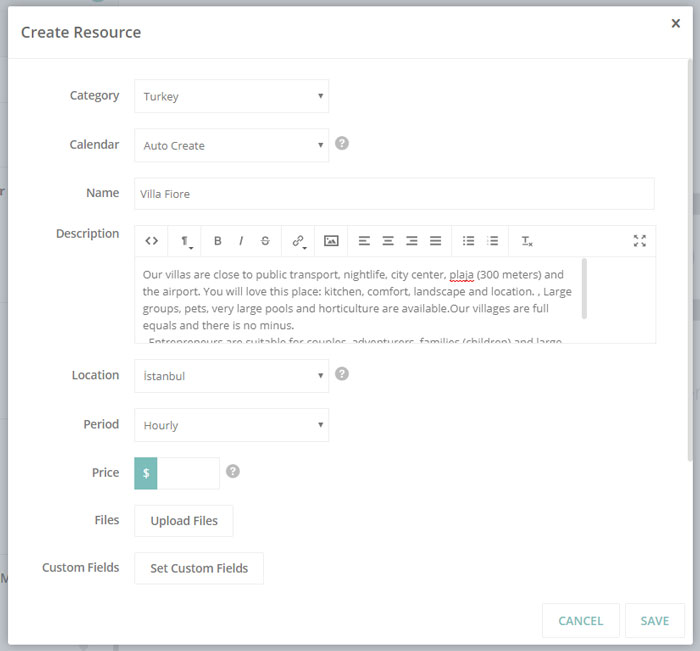 Basic Fields
Enter resource name, description, booking period, resource location and click Save to create a resource.
Resource Calendar
Resource booking types is not based on Staff calendar. Each resource has its own booking calendar and its created auto in resource creation period. If you want you can select another calendar also for the resource.
Resource Location
Your resource will be bookable only selected location.
Period
This option defines how your resource price will be calculated. For example if you have a bike resource with Hourly period and your price with $10, if your customer selects 3 hours price will be calculated as $30.
Update Resource
To update your resources click icon on a service, or click Edit button on service details screen, make your changes in the resource dialog and click Save button.
Delete Resource
To delete a resource click Delete button on service dialog or click icon on a resource list.
When you delete a resource, resource calendar and all bookings will be removed belong to the deleted resource also.
Advanced Resource Customization
Booking Attachments & Image Gallery
Add Products and Sell With Your Resources
Set Email, SMS and Popup Reminders