Booking Reminders
You can add 10 different email & sms reminders for your each service, admin, staff and customer. Each service can have their own independent reminders and reminder message templates.
Adding Reminders
To set reminders for your services, classes and resources click Reminders tab.
Here press plus icon to add a reminder. You can add up to 10 reminders.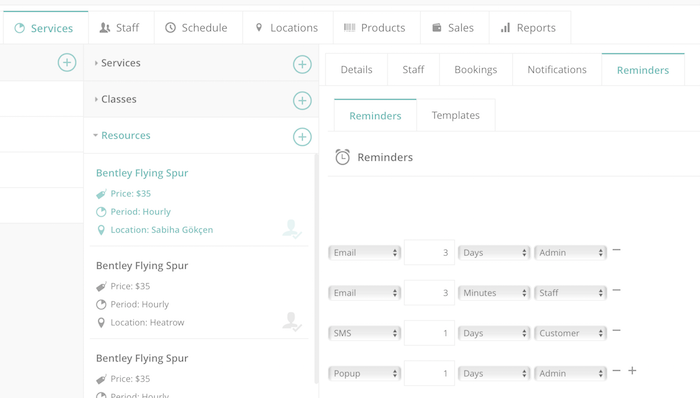 Update & Delete Reminders
To delete a reminder just click minus icon.
You can make any changes on reminders click Save button to update them.
Save Reminders For All
To set your reminders for your all services, classes and resources click Save for all services button.
Reminders Templates
You can set email reminder templates for each service, admin, customer and staff.
To set email templates click Templates tab under Reminders tab.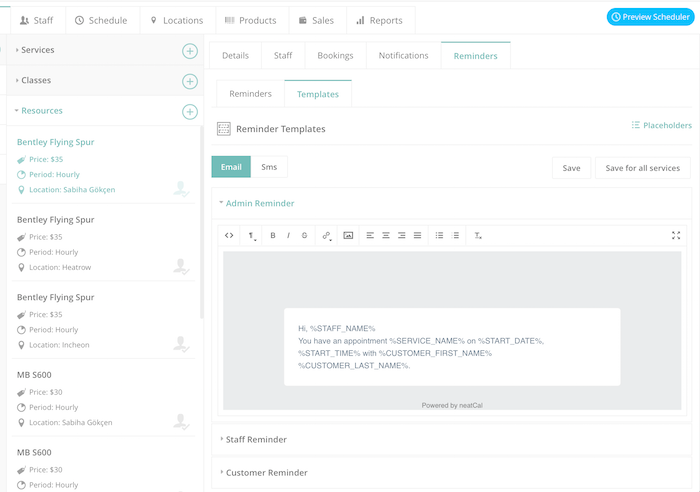 Placeholders
You can add special variables to your reminder templates.
For example if you want to add your customer name to your reminder you can use %CUSTOMER_FIRST_NAME% variable.
To view all placeholders click Placeholders button.
Example Reminder
Hi, %STAFF_NAME%
You have an appointment %SERVICE_NAME% on %START_DATE%, %START_TIME% with %CUSTOMER_FIRST_NAME% %CUSTOMER_LAST_NAME%.